At University United Methodist Church, we believe that church is more than just a building; it's a way of living. It's connecting with others — in compassion, love, justice, service and fellowship. Volunteers assist with outreach in a number of ways.
Friday Community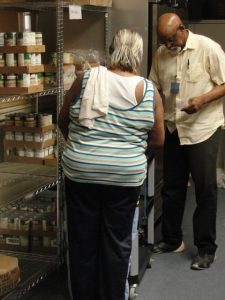 Friday mornings, from 10 a.m. to noon, our neighbors join us for coffee, fellowship, knitting, nutrition classes, cooking demonstrations, and access to our Clothes Closet and Food Pantry.  We have a working community of caring volunteers, some of whom were originally guests seeking our services, who strive to make each person who walks in feel welcome, comfortable and valued as a person.
Community Breakfasts
The second and fourth Sunday of every month, volunteer prepare and serve a free breakfast to from 90 to 110 community members in our Fellowship Hall.  At 8 a.m., volunteers begin setting up and cooking. At 9 a.m., they begin serving. Others handle cleanup duties. These breakfasts provide our neighbors with a good meal and great conversations with members.
Bagels & Coffee Breakfasts
The first, third and fifth Sundays of the month, we offer free bagels and coffee at 9:30 a.m. in our Gathering Room for all comers. It's a time for eating and fellowship before 10:30 worship in a comfortable setting.
Refugee Resettlement
During the past 30 years we have sponsored refugees who have come to this country looking for a better life. They have come from Vietnam, China, South Africa, Poland, Ethiopia, Bosnie, Somalia, Sudan, Cambodia, Bhutan and Karen, Burma.  We are preparing to welcome another refugee family in the coming months.
Nepal Mission Work
We've had a longstanding relationship with Dr. Mark Zimmerman and his wife, Deirdre, who provide vital medical and nutritional care to Nepalese in remote, mountainous areas.
Holiday Events



Thanksgiving Bag Project
Supplies for a full Thanksgiving meal are provided for pantry families, complete with a chicken or turkey. Food for 144 families was distributed in 2017.
Christmas Dinner
In the week before Christmas, church members prepare and serve a complete turkey dinner. In 2017 180 neighborhood residents were fed.

Christmas Party
Sponsored in conjunction with the East Genesee Regent Association, the party for children of the community provides games, crafts, entertainment and food.