University United Methodist Church is a welcoming, diverse, reconciling congregation that embra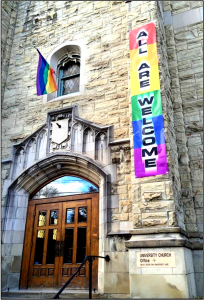 ces persons of all faith traditions and spiritual seekers. We are an engaged spiritual community, committed to personal growth and social transformation.
We embrace Jesus' message that God loves and accepts every person. We celebrate the diversity of God's creation and cherish persons of every age, race, sexual orientation, gender identity, ethnic background, marital or socioeconomic status, physical or mental ability, nationality, or education, to fully participate in the life of our faith community.
We value social justice–from our own urban neighborhood to the coffee farms of Latin America; personal spiritual growth; and environmental stewardship. Our local outreach/fellowship ministries include a food pantry and clothes closet and twice-monthly free community/church breakfast, among other activities.
We are a church of Open Hearts, Open Minds, and Open Doors. Regardless of where you might be on your spiritual journey, we invite you to be a part of a warm, caring and compassionate faith community working to make a difference in our city and in our world.
---
Livestreaming of worship: To watch the 10:30 a.m. Sunday service click: UUMC
---
We are partnering with Bellevue Heights UMC in Syracuse to benefit students at Delaware Academy in the city. Blessings in a Backpack provides students in food insecure homes with two meals for each of the weekend days during the 38-week school year. 124 of the 500 students at Delaware are sponsored. A sponsorship for one school year is $100, and the program wants a three-year commitment. To sponsor a child, click on the "Give to UUMC" link below and then on the amount you'd like to give. Donation deadline for the 2017-18 school year is July 30.
---
---
Teach-in on the Environment
6:30-8 p.m. Tuesday, Aug. 8

Two Syracuse University faculty, David Driesen, professor at SU's College of Law, and Sarah Pralle, associate professor of political science, will speak about climate change, the Paris Accord and the Environmental Protection Agency's role under the current administration in Washington. Please let us know you're coming clicking on this link: TEACH-IN