University United Methodist Church is a welcoming, diverse, reconciling congregation that embra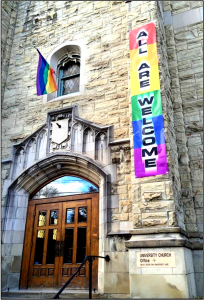 ces persons of all faith traditions and spiritual seekers. We are an engaged spiritual community, committed to personal growth and social transformation.
We embrace Jesus' message that God loves and accepts every person. We celebrate the diversity of God's creation and cherish persons of every age, race, sexual orientation, gender identity, ethnic background, marital or socioeconomic status, physical or mental ability, nationality, or education, to fully participate in the life of our faith community.
We value social justice–from our own urban neighborhood to the coffee farms of Latin America; personal spiritual growth; and environmental stewardship. Our local outreach/fellowship ministries include a food pantry and clothes closet and twice-monthly free community/church breakfast, among other activities.
We are a church of Open Hearts, Open Minds, and Open Doors. Regardless of where you might be on your spiritual journey, we invite you to be a part of a warm, caring and compassionate faith community working to make a difference in our city and in our world.
---

Vaction Bible School
Aug. 21-25 (Sun-Thurs)
6-8 p.m.
Bible Story, Games, Crafts, Snack
---
Livestreaming of worship: To watch the   11 a.m. Sunday service click: UUMC
---
12-Week Series on Phoenix Affirmations of Progressive Christianity
We are on a three-month journey examining the Phoenix Affirmations in worship and in study groups that meet Sunday and Wednesday afternoons. During worship each week, a UUMC member will give a reflection on one of the affirmations. The audio of their reflections follows each affirmation below.
Loving God
June 26: 1. Walking fully in the path of Jesus, without denying the legitimacy of other paths God may provide humanity. UUMC member Barbara Fought:
July 3: 2. Listening for God's Word, which comes through daily prayer and meditation, through studying the ancient testimonies, which we call Scripture, and through attending to God's present activity in the world. UUMC member Janet Sciscioli:
July 10: 3. Celebrating the God whose Spirit pervades and whose glory is reflected in all of God's Creation, including the earth and its ecosystems, the sacred and secular, the Christian and non-Christian, the human and non-human. UUMC member Peter Swords:
July 17: 4. Expressing our love in worship that is as sincere, vibrant and artful as it is scriptural. UUMC member Ted Finlayson-Schueler:
Loving Our Neighbors
July 24: 5. Engaging people authentically, as Jesus did, treating all as creations made in God's very image, regardless of race, gender, sexual orientation, age, physical or mental ability, nationality or economic class. UUMC attendee Rebekah Grella:
July 31: 6. Standing, as Jesus does, with the outcast and oppressed, the denigrated and afflicted, seeking peace and justice with or without the support of others. UUMC member Jeanne Finlayson-Schueler:
Aug. 7: 7. Preserving religious freedom and the Church's ability to speak prophetically to government by resisting the commingling of Church and State. Rev. Dr. William Barber, president North Carolina NAACP, from Democratic National Convention: 
Aug. 14: 8. Walking humbly with God, acknowledging our own shortcomings while honestly seeking to understand and call forth the best in others, including those who consider us their enemies.
Loving Ourselves
Aug. 21: 9. Basing our lives on the faith that, in Christ, all things are made new, and that we, and all people, are loved beyond our wildest imagination – for eternity.
Aug. 28: 10. Claiming the sacredness of both our minds and our hearts, recognizing that faith and science, doubt and belief serve the pursuit of truth.
Sept. 4: 11. Caring for our bodies, and insisting on taking time to enjoy the benefits of prayer, reflection, worship and recreation in addition to work.
Sept. 11: 12. Acting on the faith that we are born with a meaning and purpose; a vocation and ministry that serves to strengthen and extend God's realm of love.